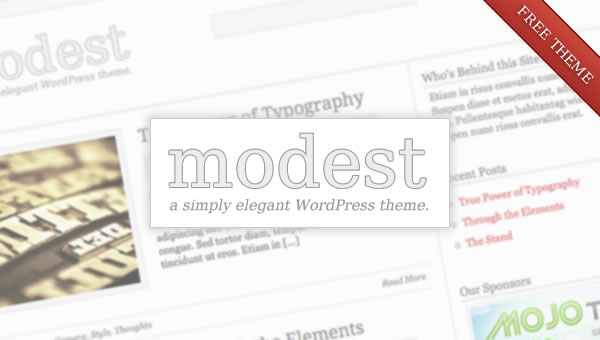 Yep.
Over the past month or so I've posted a few screenshots of a WordPress theme I've been designing. It's titled "Modest" as it's design tends to focus more on the content and typography rather than a design heavy theme.
Since finishing up the designing, I worked with my partner in MOJO Themes, Brady, to develop the theme. Hat tip man.
The final version couldn't have come at a perfect time actually. After an extremely successful Holiday Cyber bundle on MOJO, we've put up a new layout on our homepage which showcases a new FREE theme section.
Anywho, we've released our first free theme on MOJO with none other than the Modest WordPress Theme. Booyah! So… I gladly invite to snag this FREE WordPress theme while you can. Oh and don't forget to visit MOJO themes as well where you browse and buy WordPress themes.