WordPress Fun Theme
This WordPress Fun Theme was featured on Smashing Magazine just recently.  I actually used this theme myself for quite sometime.  Takes a little bit to get up and running but the illustration and design work is unlike any other WordPress Theme I have ever seen.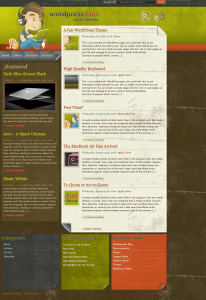 Preview: Click Here to see a Live Demo of the WordPress Fun Theme.
Download: Click Here to Download the WordPress Fun Theme.
Additional Downloads: Click here to Download the PSD and EPS files.