This is Rockstar PPC 101: I'm starting out with the basics as I write these first few posts. We'll  work towards getting  into much more advanced techniques as we move forward.
Alright, so now that you've gone through my "Define.Research. Deploy." process, you're ready to start setting up your paid search campaigns. Within that process you should've completed the following items:
Define your Niche
Research your competition within your niche using Keyword Research Tools
Solidify your Objective
Creating a compelling CTA (Call to Action)
With those items behind you, it's time to talk about the setting up your paid search campaigns. What I mean by that, is how are you going to be organizing your account structure?
Why is Account Structure Important?
The last thing you want to do is start creating a bunch of random campaigns with no real direction. You'll end up overlapping campaigns, have an un-organized account and will most likely cause you more work.
Back in the day, your campaigns would be stuffed with thousands of keywords with just a few ad groups. Now, I don't ever have more than 10-15 keywords within an ad group.
Essentially, with a structured account, you'll be able to pin-point any item you want in your account which allow for better management. No matter how granular you want to manage your account (e.g. down to the keyword level) you'll know exactly where everything is within your account.
Paid Search Account Structure & How it Effects your Quality Score
I can't emphasize enough how important your account structure is. This is one of the biggest factors when talking about Google's Quality Score. In case you're not familiar with the quality score, you need to definitely understand it before you setup a Google Adwords account. In short the Google Quality Score is:
The AdWords system calculates a 'Quality Score' for each of your keywords. It looks at a variety of factors to measure how relevant your keyword is to your ad text and to a user's search query. A keyword's Quality Score updates frequently and is closely related to its performance. In general, a high Quality Score means that your keyword will trigger ads in a higher position and at a lower cost-per-click (CPC).
Back in October of 2008 I did a post on "How to Help your Google Adwords Quality Score". All of it is still relevant and will play a huge role in building up your quality score.
Inside Google Adwords (and Yahoo! & MSN, etc.) your account is laid out like this.
Campaigns (e.g. Mens Nike Shoes)

Ad Groups (e.g. Nike Shox, Nike Air Max, Nike
Ad Copy
Keywords
TIP: The more specific you layout your campaigns the more specific your ad copy & keywords will be. Thus, resulting in better ROI and conversion rate.
Solid Account Structure = Extreme Relevance & Google Love
Google's main goal with their search results is to be as relevant as possible. If you're campaigns as relevant as possible, Google will reward you for your hard work & effort.
It's easy to be lazy and throw up a few campaigns and a few ads. Try to avoid that and make it a goal to reach the maximum amount of campaigns within your account.
If you're not shooting for that, you're just being lazy.
Let's look at a few examples
Let me show you a quick example of how a well structured campaign, makes you get more specific & relevant.
In this examples, I'm using the new Nike Shox that just came out, the "Nike Shox NZ id". You could either setup your own Nike Shox campaigns or just add another ad group to a General Nike Shoes campaign.
If it were me, I would use the more specific example. (See below.)
Campaign Name: Mens Nike Shox
Ad Group: Nike Shox NZ id
Ad Copy:
Nike Shox NZ id
Customize your NZ's with Nike ID.
Get 20% Off & Free Shipping Today!
www.JRazzlesShoes.com/Nike-Shox-NZ
When you setup your account strucutre this way, you have no choice but to have a very specific ad, that targets very specific keywords. This does a number of things. Compared to the other ads you'll be displaying next to, you're more likely to be clicked on and you'll be linking to correct product page the consumer is looking for.
Here's what happens when you don't have account structure
When I searched for "Nike Shox NZ id" these were the top 3 ads to show up.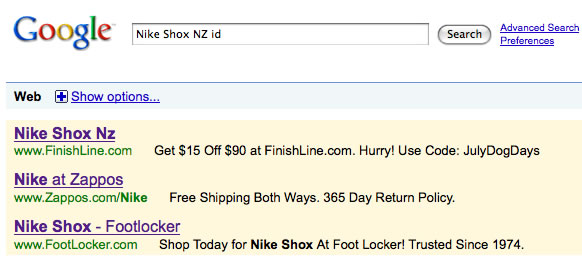 First thing you'll notice is out of all 3 results, none of them use the descriptive ad copy to really "sell" the product. It's unfortunate to see. In my opinion, if the account was structured in a precise manner, they would be much more specific for each product. For the most part, these ads are geared to just the Nike Shox shoe.
But after clicking on each of the ads, it get's worst.
All of these ads failed to send the me, the visitor, to the appropriate landing page. Out of the 3, Footlocker was the worst, as it sent me to this page: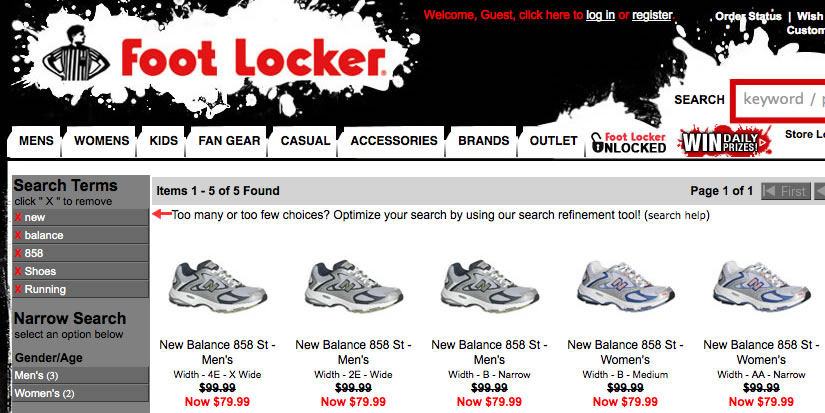 Uh — what is this?
I mean, it's nice of you to show me your New Balance shoe collection but your ad told me it would take me to your Nike Shox? Seriously, Footlocker out of all sites out there too. I expect more out of a big company to have it more together. To me, this is a classic case of having an un-structured account which ultimately takes away your ability to manage your entire account.
Either way, just remember to keep it relevant. Having a well thought out account/campaign structure will give you the ability to manage your paid search campaigns at an optimal level.
If you've already created a few campaigns within your account, that's ok. Next time you're begin setting up new campaigns and ad groups, remember the importance of your paid search account structure.
Was this helpful? Let me know if I didn't touch on something or you need more clarification. In the meantime be sure to Subscribe to my RSS Feed or Follow @jrfarr on Twitter for the next Rockstar PPC installment.