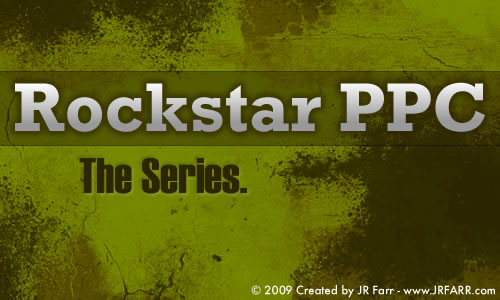 A Component of the Rockstar Marketing Series – Custom Crafted by JR Farr.
Paid Search is more then keywords & bidding wars. This my friends, is PPC for today's world… 2009.
I've been looking forward to break out my new Rockstar PPC Series as it's something I feel very confident in. For the past 3-4 years I have been deeply involved with the paid search landscape so get ready for some amazing content and the learn the ropes of how paid search works.
The Basics – What's Paid Search?
Paid Search, Pay per click, PPC — I guess whatever you want to call it is extremely powerful and when used correctly, can set you apart from your competition.
Essentially, the search engines (like Google) display your advertisements throughout the engines and you only pay when a user actually clicks on your ad. You pick the keywords you want to show up for, you determine the bids & position you want to rank and send visitors to your website or landing page.
What you'll Learn in the Rockstar PPC Series
I see paid search as two-fold. I think most advertisers forget how important the second part of the paid search equation, therefore, they FAIL.
The first part is being competitive in the search engines, bidding appropriately on long-tail keywords, wiritng compelling ad copy, etc. You do this all in an effort to get the users attention to click on your ad and make there way to your site. Keeping your fingers crossed that a conversion takes place.
The second part, in my opinion, is often over-looked. It's all about where you're sending your visitors and what you're telling them to do when they get. It's a paid tour and you're the guide… Are you leaving your visitors lost or helping them find their way?
Stay Tuned…
Here's a quick look on what up-coming posts you can expect.
Writing Compelling Ad Copy
Taking advantage of FREE Keyword Tools
Geo-Targeting & Day-Parting your Campaigns
How to have a High-Quality Score from Google
The Formula to a Highly converting Landing Pages
Remember to Follow JR Farr on Twitter or Subscribe to my RSS Feed so you don't miss a post!