This is a quick overview of what universal search is and I'll follow up on several sub-topic posts on how to optimize for universal search. The idea hasn't been around for long but it's slowly becoming more useful & popular among the search engines. Are you optimizing for it?
I remember almost a year ago, I was in San Jose, CA sitting in a SES (Search Engine Strategies) session that was all about universal search and where it was going. I sat there and listened to a panel that consisted of high-end engineers from the major search engines like Google, Yahoo, MSN & Ask.
Hearing it first hand from the "source" was very interesting and they talked about plans that would improve universal search. It's been neat to watch it evolve and I'm excited to share what I've learned from real experiences since then.
First things first, What is Universal Search?
The funny thing is, you're using it everyday and probably don't even notice. This is something that has slowly come into play throughout all the major engines over the past few years. I guess they call that Web 2.0ish or something like that. 😉
Anyway, take a quick look at an example below: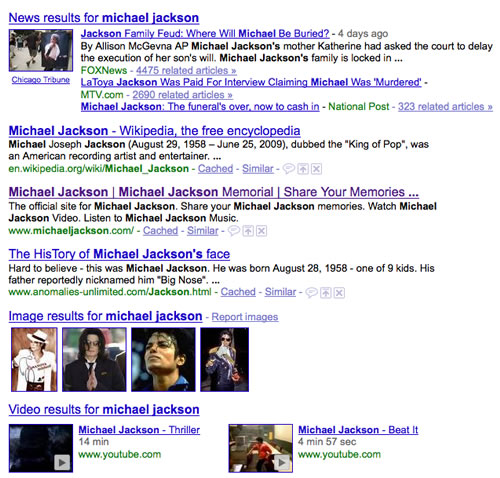 You'll see in the example above there's more than just text links. Essentially, universal search blends different types of mediums together. These mediums range from:
Images
Videos
Blogs
News
Products
And the list goes on.
I searched the term "Michael Jackson", (I know, I know…) and the search engines didn't know if I was looking for videos, albums, images, etc. Therefore, the results range from news sources and a mix of images & videos to attempt the most relevancy possible. Since launching these type of SERPS, there has been more diversity and they have expanded to become more blended & relevant.
The Question is… How do you Optimize for it?
Funny you should ask 😉
This is just a brief introduction to universal search. I wanted to be sure I explained what the concept was before I really got into it in my next posts. Over the next few Rockstar SEO installments, I'll be sharing some great tips & tricks on how to rank for more than just a text link. Obviously, being ranked for a text link is a bad thing either.
I'll cover these main points:
How to Rank well for Image Search
Video Search Optimization
Google Base Optimization Tips & Tricks
Stay tuned…
Be sure that your either following me on Twitter (@jrfarr) or you're subscribed to my RSS Feed because you don't want to miss this.